YCCECE alumni can continue to access the Kidsploration Library and use its facilities after graduation. Alumni must observe and follow the library regulations. Two types of alumni packages are available:
Type of Packages
Annual Fee
Alumni Card Fee
On Campus
Off Campus Access to eResources
Reading
Borrowing
Reader card
Free
Not required (Alumni can use their expired YCCECE student ID card to enter the Kidsploration Library)
Yes
No
No
Borrower card
HK$200

HK$50 smartcard issuing fee (non-refundable)
HK$500 caution money deposit

Yes
Yes (see the table below)
No

Reader card
All YCCECE alumni are welcome to visit the Kidsploration Library by presenting their expired YCCECE/YCCC student ID cards if available. Otherwise, certain alumni identification will be checked upon library entrance. The alumni can use the Kidsploration Library's desktop computers, photocopying and printing facilities.
Borrower card
The YCCECE alumni who wish to borrow library materials may apply for a Borrower card. The same as the Reader card holders, alumni with a Borrower card can use the Kidsploration Library's desktop computers, photocopying and printing facilities.
The application can be made online.
Cost of replacement: A fee of $50 will be levied for the replacement of lost or damaged card.
Borrowing Privileges for Borrower Card Holders
Please visit the Loan Quota page for more details. Borrower cardholders are subjected to the same Overdue Fines, Damage and Loss regulation of library items.
Login to Koha to check and renew your loans
Please use "Koha Local Account Login", and input your card number to the email field.
For first time login, please click "Forgot your password?" to set your own password.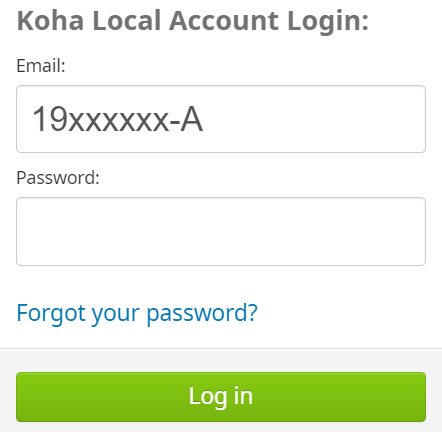 Use of Photocopying & Printing Facilities
Alumni who wish to make photocopy or printing at the Kidsploration Library can purchase print quota using their Octopus card at the library counter. Please visit the Printing, Photocopying, & Scanning page for more details.
Use of Desktop Computers at the Kidsploration Library
Alumni can access to the computers at the Kidsploration Library.