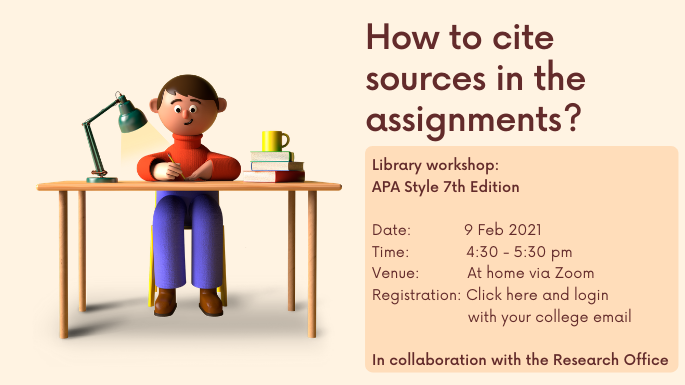 Library workshop: APA Style 7th Edition
You are cordially invited to attend the Library workshop, co-organised with the Research Office, on APA Style 7th Edition with details as follows:
Date:                  Tuesday 9 Feb 2021
Time:                  4:30 - 5:30 pm
Venue:               via Zoom
APA style is a writing style and format for academic documents such as scholarly journal articles and books. And it's the College's requirement for all student assignments to be submitted by following the 7th edition of APA Style in both citations and references. This workshop highlights the key rules and referencing formats in the 7th edition of the 
Publication Manual of the American Psychological Association
.
The workshop topics include:
In-text citation
Book & book chapter
Journal article
Webpage
All staff and students are welcome to join. More information on citing sources in APA Style (7th edition) may be found in the library guide as underlined.