Information about plagiarism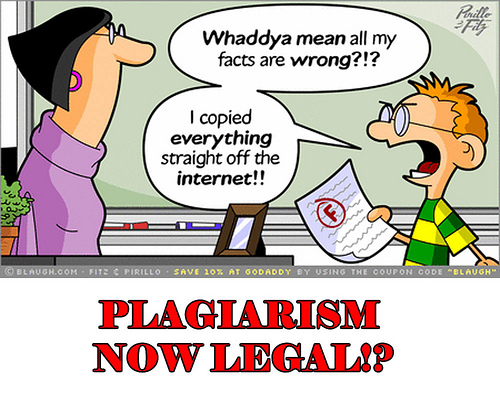 Source: Photo by Robin Aguilar from
http://www.smartschools.ph/tools/studentresources/11-10-03/Sample_Cases_of_Plagiarism.aspx
For Plagiarism and other Forms of Academic Dishonesty, please refer to Student handbook section 8.3
Intellectual property rights and copyright law are critical to the development of a creative society. In this section users will find information relevant to copyright as it applies to the Library's resources.
What is copyright?
In general, copyright is the right given to the owner of an original work. This right can subsist in literary works such as books and computer software, musical works such as musical compositions, dramatic works such as plays, artistic works such as drawings, paintings and sculptures, sound recordings, films, broadcasts, cable programmes and the typographical arrangement of published editions of literary, dramatic or musical works, as well as performers' performances. Copyright works made available on the Internet environment are also protected. (Intellectual Property Department of Hong Kong ,2017)
For Academic Honesty and Copyright, please refer to Student handbook section 8
For Library Copyright Regulations, please refer to Student handbook section 11.3.4
Useful information relating to copyright on other websites:
(Please note that Library is not responsible for the content of other websites)
Warning
Copyright law & photocopying
Users are advised to observe strictly the copyright law when reproducing materials, whether by photocopying or by electronic means. Users are fully responsible for any legal consequences concerning copyright that may arise.