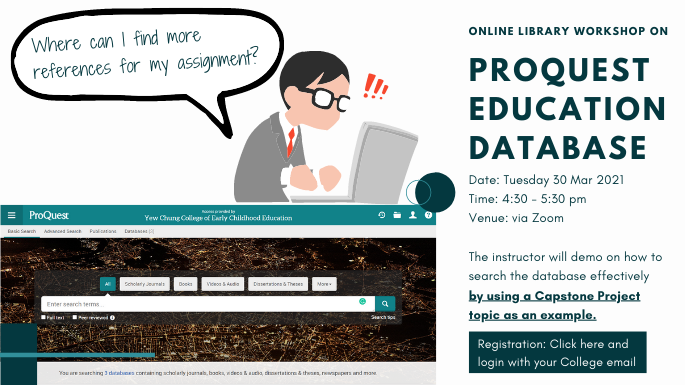 Online Library workshop on ProQuest Education Database
Date:                           Tuesday 30 Mar 2021
Time:                           4:30 - 5:30 pm
Venue:                         via Zoom 
Instructor:                    Alan Tang from ProQuest
Mr. Tang will demo on how to search ProQuest Education Database effectively 
by using a Capstone Project topic as an example
. 
The Library has subscribed to the ProQuest Education database since December 2020 in order to continue to develop our online library resources for teaching, learning and research. It includes over 1,000 full-text journals and 18,000 dissertations, supporting research on the theory and practice of education. 
The new database supplements our 
EBSCOhost Research database
, which includes Academic Search Complete and ERIC (Education Resources Information Center). 
All staff and students are welcome to join.