Introduction
Normally, university students are expected to utilize and transmit their independent thinking into essay writing. Students need to write reports or reviews of certain topics to show their ability in critical thinking. On the grounds of this expectation, students have to learn and acquire essay writing's skills in order to achieve a good academic result.
To help students further enhance their writing capacity, relevant resources available for loan are to be recommended below. These items plus some other references in pdf format may be placed in Reserve Collection in our library. Please consult the Circulation Librarian at the information desk for further information.
Recommended readings
Title & synopsis
Essay writing for students by John Clanchy and Brigid Ballard can be borrowed from YCCECE college library. The book provides information of the characteristics of different essay types, analysis and planning of an essay, drafting, reviews and strategies on essay writing. Moreover, it focuses on the central tasks of analyzing a topic, reading and research, drafting and editing the final version of an essay or report.
YCCECE Library (PE1408 C53 1997)
Source: http://www.pearson.com.au/student/vocational/product-listing-page/product-details-page/?isbn=9780582808843
Business letter
Types of business letters:
Complaint letter
Application letter
Inquiry letter
Cover letter
Resignation letter
…etc.
Principles:
Business writing must be complied with the following basic principles:
Clarity
Conciseness
Correctness
Courtesy
Completeness
Consistency
Organization:
Opening
Include reference
Express writer's purposes
Body
Elaborate on details to reader
Closing
Restatement
Anticipated actions
Style & Tone:
"Business writers should consider the tone of their message, whether they are writing a memo, letter, report, or any type of business document. Tone is present in all communication activities. Ultimately, the tone of a message is a reflection of the writer and it does affect how the reader will perceive the message." (Purdue Online Writing Lab, http://owl.english.purdue.edu/owl/resource/652/1/
Six general guidelines that should be borne in mind:
Be confident.
Be courteous and sincere.
Use appropriate emphasis and subordination.
Use non-discriminatory language.
Stress the benefits for the reader.
Write at an appropriate level of difficulty.
Example
Formal tone: Should you have any further queries, please do not hesitate to contact the undersigned.
Informal tone: Do call me if you want to discuss your case.
Media release
What is media release?
A media release is the information that you wish to release to the media about a company, organization, product or event. The advantage of media releases over advertising is that they can help you secure powerful and free media coverage because your copy is seen as more credible. This means that a media release has to have value as news: if all you're doing is trying to get free advertising, the copy will be seen as hard-selling and lacking newsworthiness, and will be less likely to be published or broadcast.
Structure of media release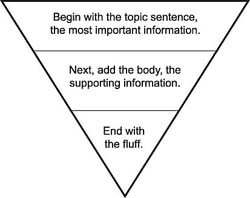 The inverted or upside-down pyramid is a general guide to how information is presented in a media release.
Writing a media release
A media release should begin with a lead, expand on the lead and proceed to present information in decreasing order of importance. This 'inverted pyramid' style, as shown in the diagram above, allows an editor to perform his or her job – that is, edit- from the bottom up.
Feature article
A feature article is a tool to help selling things. It can sell an idea, a product or a service. Feature articles are prepared by a public relations writer to get the client's name, ideas, products and/or services into the media. Feature articles are important in public relations and image building because they can be used to get free advertising.
A feature article is a soft-sell way of getting a message across to consumers. Often consumers are not even aware that they are being sold a new idea, product or service. Newspapers and magazines rely on feature stories as a source of inexpensive reporting. An editor may choose to modify a feature story, but many editors print them exactly as they are written.
Feature article grabs readers' attention and interest. More importantly, by using quotes, it helps to create interest. Students can use interesting title, pictures with caption to increase the attractiveness for feature article.
Two suggestions are listed below for students to consider what to write for a feature article.

- Profiles
A profile tells the story of a person. Everyone is interesting in his or her own way and the job of the interviewer/reporter is to find that interesting story and present it to the readers.

- Behind-the-scenes features
People are fascinated with processes. We use thousands of products and services every day, but seldom get an understanding of how products are made or services are organized. A behind-the-scenes feature helps explain these things and give the readers an appreciation and conversation point when using the products and service.
Writing tips
It is essential to follow a writing process!
A good writing should go through the following process:
Step one: PREWRITING
THINK
Decide on a topic to write about.
Consider who will read or listen to your written work.
Brainstorm ideas, images, quotations or words about the subject.
List places where you can research the needed information.
Do your research.
Clarify the type of writing and general theme of the topic
Step two: DRAFTING
WRITE
Put the information you researched into your own words.
Write sentences and paragraphs even if they are not perfect.
Read what you have written and judge if it says what you mean.
Show it to others and ask for suggestions.
Step three: REVISING
MAKE IT BETTER
Read what you have written again.
Think about what others said about it.
Rearrange words, or sentences, or even paragraphs.
Take out or add parts.
Replace overused or unclear words and/ or sentences.
Read the revised writing aloud to be sure it flows smoothly.
Step four: PROOFREADING
MAKE IT CORRECT
Be sure all sentences are complete.
Check spelling, capitalization, and punctuation carefully.
Change words that are not used or spelt correctly.
Have someone proofread your work.
Recopy it correctly and neatly.
Step five: PUBLISHING
SHARE THE FINISHED PRODUCT
Read your finalized writing aloud to a group.
Create a book of your work.
Send a copy to a friend or relative.
Put your writing on display.
Illustrate, perform, or set your creation to music.
Congratulate yourself on a job well done!